BBGR BluV Xpert lenses offer an all in one lens that gives protection from UV rays, as well as offering up to 2.5x more protection from blue-violet light than regular prescription lenses.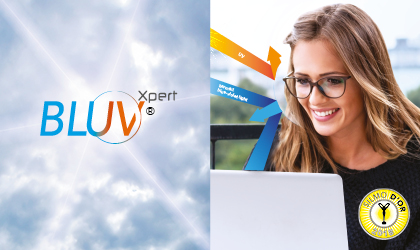 BluV Xpert lenses were recognised for bringing true innovation to the optical lens market in 2018 by being awarded the coveted Silmo D'Or award in the "vision" category at the famous Paris event. This award recognises the research and development that BBGR put into developing chemical molecules that absorb both UV and blue-violet light.
BluV Xpert lenses are designed for regular everyday use. They provide 2 in 1 protection from both UV rays, and blue violet light without compromising the aesthetics of the lens.
BBGR BluV Xpert lenses are available from your local independent optician.